Automobile Driving Training School
48/3, BRTC Staff Quater Marcket, Senpara, Parbata, Kafrul, Mirpur, Dhaka-1216,
Mobile: +8801870721163, Phone: 02-58050955, E-mail: info@pathwaybd.org
Course Fee
Manual Car = 9000/-
Auto Car = 7000/-
Scoote = 6000/-
Motorcycle = 3500/-
AUTO CAR DRIVING
An automatic car changes gears for you automatically in relation to the speed you're travelling and doesn't have a clutch pedal.
MANUAL CAR DRIVING
A manual car has a gear system that you operate yourself by moving the gear stick and pressing down the clutch pedal.
MOTOR CYCLE DRIVING
We provided Scooty And motorcycle training for Female and Male
OUR FEATURES
Free driving training facilities for working women and third gender
Help for Driving License that provided by BRTA
Provision of training by skilled trainer
THEORY CLASS: Every Friday & Saturday 4.00 PM to 6.00 PM
Scooty And motorcycle training for Female and Male
Get job at the end of the training
FACILITIES FOR
THIRD GENDER
BADAS
Driving facilities are also provided for the Third gender. Those who belong to this group generally earn their living through begging or by demanding money from pedestrians and shopkeepers. This has sometimes led to altercations and untoward incidents. These people are given free training. Pathway is trying its level best to bring them into mainstream society. Pathway Driving School is a non-profit organization. It's main purpose is to provide the have nots with a modicum of decency and to give them a chance to live free of want.
Driving Training School
Latest News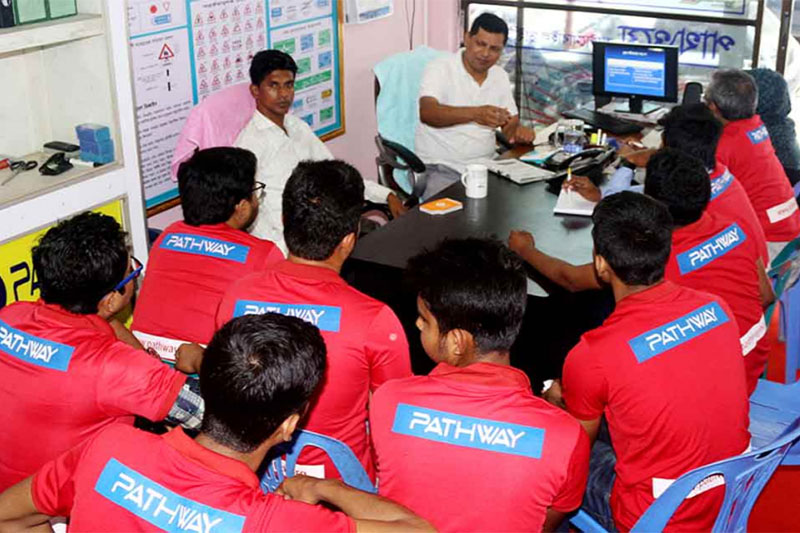 Media Coverage
Media Coverage of Road Safety Program