Dear Brothers & Sisters
The holy month of Ramadan 2020 insha'Allah coming soon!
And we launched our Ramadan Iftar distribution program this year again.
Those who want to contribute the community via donating please reach us out anytime
info@pathwaybd.org
All are Invited to have Participation Wth our Journey for Better Human Beings
Why Pathway for Iftar donation?
As a non -profit organization
Pathway
has a long journey in charity activities. Every year Pathway runs Ifftar program throughout the month of Ramadan. It is easy and comfortable to donate with Pathway. Pathway always pay respect to your trust and works within its rules and regulations.
Every year in the holy month of Ramadan we distribute Iftar meals among the poor and needy people. The food packets are especially designed in a way that it meets the basic fundamental nutritional needs and to reach as many people as possible.
Our Iftar programs
are widely covered by mass media and a number of videos are available in our website.
Your magnificent Ifftar donation will help to provide Iftar meals among the disadvantaged and bring a smile back in their faces for a certain period.
Donate your Iftar meals to most deserving people.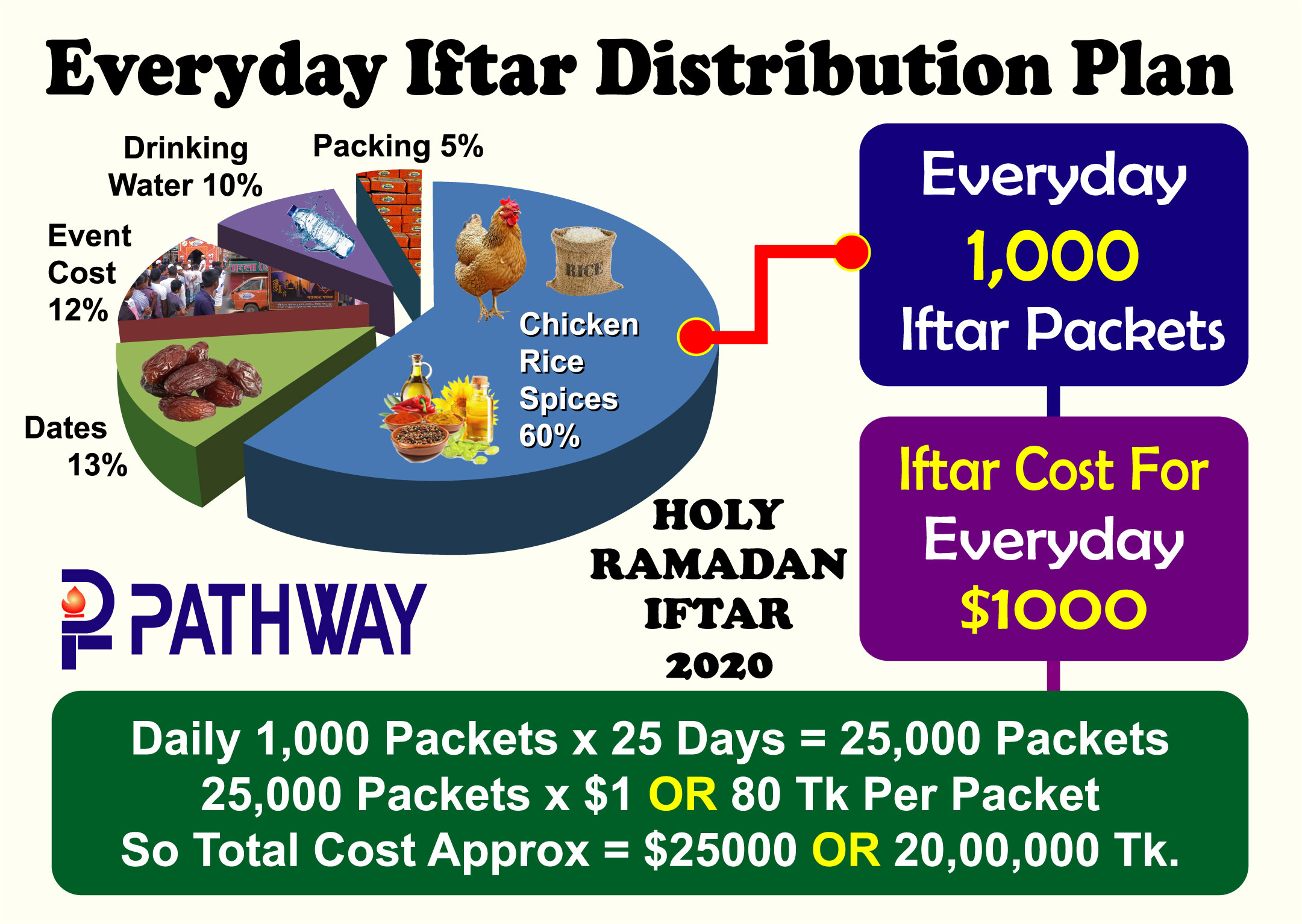 Each moment in Ramadan is significant,
But the Iftar moment has a different, gratifying feeling.
Together we can do extraordinary things.
Donate this Ramadan and make a difference!
A Good Opportunity to Donate:
Pathway
is one of the leading
NGOs in Bangladesh
. The main goal of Pathway is to help the poor and needy people through economic development, health development, income generation, providing proper education. The mission of Pathways is to help building a sustainable and quality society through upgrading the life styles of poor and backward people of the society.
Pathway believes ensuring an environmentally sound society, productivity, gender equity all these can help it to accomplish its mission and vision in Bangladesh. Among all other objectives, one of the main objectives that Pathways focus on is to run charitable programs for the poor and needy people.
In order to accomplish their sustainable goals, Pathway aims to remove illiteracy from the society, make people aware against early marriage and dowry, develop skills to remove unemployment, runs different training activities, encourages child education, helps to run school, colleges, distributes free books to the poor students, runs program to ensure pure and safe drinking water.
Pathway is keen to keep our environment safe and sound. Pathway takes initiatives and make people aware on tree plantation and the disadvantages of deforestation. Also encouraging to use solar energy in the irritation and reduce carbon emission are the other environmentally friendly initiatives taken by Pathway.
Pathway runs variable programs throughout the year to help street children and helpless children. During the time of disaster, Pathway takes different initiatives to help the affected people.
Also, it runs different programs to aware people on disaster management. Health programs, resettling disadvantaged people like physically challenged, drug addicted people are also some other sectors that Pathway works for.
Among all other social welfare activities, Pathway runs
"Iftar Program"
every year during the month of Ramadan. In every year, Pathway consistently drive for an agreeable journey by serving "Iftar" for the fasting individuals, the individuals who lead their life at Terminals, lower paunch of the general public and even to vagrants at Ramadan. Pathway Believe to have a standard life by making the highest open door for the road and vagrants.
People from all classes are seen enjoying the Iftar offered by Pathway. The iftar menu generally comprises with dates,
"Biriani/Khichuri"
along with water and fruits.
This is a key time for the Muslim Ummah to exhibit solidarity and go to the guide of the individuals who need help. There are a great many individuals around the globe in desperate need of a portion of life's most fundamental necessities, for example, nourishment, water, apparel, and shelter. As residents of mankind, it is our ethical obligation to provide them with some timely help.
As a feature of our charity help activity, Pathway is distributing food packs and iftar in the month of Ramadan. We are planning to give however much help as could reasonably be expected to the distressed families along with the homeless people and people who are on the roadway and does not have opportunity to take Iftar, for example, rickshaw pullers.
Ramadan is a month of goodness, liberality and noble cause. It is the month when we should endeavor to proceed whatever number great deeds possible for us. Offering Iftar to a fasting individual brings numerous prizes.
Narrated by
Haritha bin Wahab
:
I heard the Prophet (saws) saying, "O people! Give in charity as a time will come upon you when a person will wander about with his object of charity and will not find anybody to accept it, and one (who will be requested to take it) will say,
"If you had brought it yesterday, I would have taken it, but today I am not in need of it."
Sahih Al-Bukhari Hadith 2.492.
Ramadan, for many of us, is just feeling the pain of hunger for couple of hours, yet for thousands of kids and grown-ups far and wide – hunger is a day by day actuality. Not everyone can arrange a decent Iftar for their families. There are people who can't even arrange Iftar for themselves let alone their family.
Bangladesh is a developing country and also the most densely populated country in the world. A huge number of people in our country lives below the poverty line and as a result suffer from extreme hunger. A number of other people who can somehow manage to eat once in a day. Lot of people migrates to cities especially in Dhaka city in search of job but fails. As a result they get involved in different criminal activities along with drugs. Even most of the street children and slum children are dangerously drug addicted. If they are asked why they take drug, most of their reply is it helps them forget hunger!
As per a report by IslamicMarkets practically half of the part nations in the Organization of Islamic Conference are set among the 56 most destitution-stricken nations of Sub-Saharan Africa and South Asia. In Bangladesh 24.3% people live below poverty line and among them the extreme poverty rate is 17.6% which shows us how miserable life this people are leading. In Dhaka city, children are seen begging in the street to fulfill their hunger. Homeless, old, women, even the disable people are seen begging in the streets, terminals etc. During the Ramadan the situation is worst for them. Many of them can't afford food to break their fast. Many families have nothing to eat during Iftar.

These statistics put the duty on us, we individuals who are wealthy and can manage the cost of a living, to make a move. We are ethically and religiously responsible and are questionable before humankind and will be accountable in hereafter on the day of judgment about this.

Prophet Muhammad (Peace and blessings be upon him) said:
"Allah will say on the Day of Resurrectio "O son of Adam, I asked you for food and you fed Me not
He will say: O Lord, and how should I feed You when You are the Lord of the worlds? 
Allah will say: Did you not know that My servant So-and-so asked you for food and you fed him not?
Did you not know that had you fed him you would surely have found that (the reward for doing so) with Me?"
[Sahih Muslim] On the authority of Abu Hurayrah (may Allah be pleased with him.

Allah says in the Holy Quran Chapter 2 Surah Baqarah verse 261:
The charity of those who expend their wealth in the Way of Allah may be likened to a grain of corn, which produces seven ears and each ear yields a hundred grains. Likewise, Allah develops manifold the charity of anyone He pleases, for He is All-Embracing, All-Wise.

Ramadan is the ninth month of Islamic calendar and is the holy month. It is the month of fasting for all the Muslim. It is the month during which the Holy Quran was revealed as direction for all humankind for the absolute first time. Ramadan is about sacrifice, tolerance and control.
Join us in our 2020 Ramadan Iftar Donation campaign
And help to feed the poor and needy people
Media Coverage
Media Coverage of Iftar Program
Pathway
a leading non-profit organization in Bangladesh, which aims to help the poor and disadvantaged people along with fighting against climate change, providing training to third gender people, etc. Pathway runs various social welfare programs throughout the year.
Pathway believes education is for all. As one of our primary focus, we provide education to street children. Currently, we have 500 students and 62 teachers and staffs who are taking care of these children. We offer a great environment for the street children to learn with fun and creativity.
Unemployment problem is one of the greatest problems in our country. Currently 30 million people are unemployed and the number is increasing every year with a high rate. Pathway runs programs to train the unemployed so that they can be self-employed and also help them to go abroad.
Road safety is another concern in our country. Pathway runs driving program to make our roads safe and sound. Some of our key features are providing free training to working women and third gender people, help to get driving license, get job at the end of the training etc.
To help people with disabilities, Pathway put its effort to bring them in normal life and provides training and job if necessary,
With qualified doctors and staffs who are experts in providing services, Pathway runs a number of health programs including health services for mothers and child and adolescents aged between 10-19. Along with providing medical counseling, free Friday clinic, blood donation program, free medicine. Our specialist doctors are always there to help the poor and helpless people.
Under road safety programs Pathway trains the drivers provides road safety education to the students, rises awareness through multimedia show, arranges road march, rally and discussion etc.
Bangladesh is frequently affected by natural disasters due to climate change. Pathway always work with government to recover the disaster affected areas and to help the affected people. Also, it runs programs to make people aware and take precautious steps to reduce the damage.
Around 5 lakh people belongs to third gender in our country. These people are always neglected and people have some negative feelings towards them. Pathway also provides training to them and provides free study materials to their children. Besides Pathway makes publicity among the mass general to change their negative attitude towards the third gender.
One of the biggest programs run by Pathway every year is "Iftar Program" which takes place in the month of Ramadan. Like before Pathway will continue its Iftar Program in 2020 also.
Every year Ramadan comes to us with so much benefits. During this month Muslims fast from dawn to dusk and keep away from eating, drinking or wicked or improper exercises. It shows us self-restraint and control while remunerating us with Taqwa and enlightenment through obedience to ALLAH (SWT).
Frequently Asked Questions
Where Ramadan is celebrated?
The Islamic holy month of Ramadan is a period for Muslims around the globe to restore their emphasis on spiritual life. Ramadan is celebrated all over the world. Every Muslim around the world are bound to celebrate Ramadan every year.
Where did Ramadan come from?
What is forbidden during Ramadan?
In Islam, starting of a month depends on the Moon. This year Ramadan is expected to begin on the last week of April, most probably on 23rd April, Thursday.
Why Ramadan is important?
Why Ramadan is celebrated by Muslim?
Who cannot fast on Ramadan?